Superflex Sport (flexible)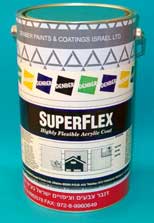 Acrylic flexible anti slip coat for exterior sport courts
Advanced flexible coating system water dilution acrylic polymer coat, provides a flexible & thick coating with proper friction coefficient which suitable for sport courts such as tennis court etc.
The coating is self-leveling, excellent sealer and bridges cracks.
The coating providing a thick layer (about 1 kg per square meter of each layer)
Properties:
Extra flexible, expands in the heat of the sun and shrinks back at night and in the winter, up to 4 times (400% elongation) without cracks formation.
Pure acrylic suitable for outdoor uses, as well as for various hard climatic conditions (such as long exposure to the sun light etc.).
Excellent resistant to U.V., suitable for exterior uses.
A thick coating provides extra sealing ability.
Excellent adhesion to asphalt/ concrete infrastructure (on suitable primer).
The coating provides a rough and slightly rugged surface, suitable for sport as well as for athletic applications (including running etc.)
Washable, resistant to scrubbing and to cleaning cycles.
Quick drying, ready for recoating after 4-6 hours, depending on the temperature & conditions.
Excellent workability, easy to apply the coating by spreading with a roller/mop or serrated wiper for a proper leveling.
Applications:
Suitable for coating floors of sport & tennis court.
Suitable for coating running & jogging tracks (including for athletes).
Suitable for coating parking areas for vehicles
Suitable for coating walking and bikes paths.
Technical Data:
Theoretical spreading rate: 1 liter per 1.5-2
Practical thickness for crack bridging of 2 mm: 2-5 kg per sqm.
Flexibility: 1 mm (sheen).
Density: 3-1.4 gm\cm3
Viscosity: 100,000 cPs (Brookfield)
Hardness: >10 Dg (Erichsen).
Stretching strength: 30 kg\cm2
Average adherence strength: 72 MPa.sec.
Elongation: 400%
Average bridging ability before erosion: 2 mm.
Average bridging ability after erosion: 78 mm.
Elongation of 5 years old film: 280%
Recommended number of layers: 2
Solids: 67%
Wet thickness of every layer: 1 mm
Erosion: 120 mic. film without quartz – 760 cycles (BYK Gardener)
Erosion 1 mm wet after final drying : 2400 cycles (BYK Gardener)
Wash ability: 1000 cycles with no paint peeling Israel standard 1945
Scrubbing resistance: 200 cycles Israel standard 1945
Contains:
Acrylic flexible emulsion.
Flexibility advanced materials.
Pigments, quartz and fillers.
Fungicides, conservation materials.
UV rejection
Wetting and self levelling
Thixotropic additives.
Colors:
Green standard, red-brown standard, blue, gray,
Gloss:
Touch – drying time:
Repainting Gap Time:
4 hours, according to and thickness Final drying for use – 3 days. (in interior sport halls times can be longer )
Recommended Application Methods:
In rainy days coating is forbidden..
Roller- first coat can diluted 20% with water, second 10%, every layer 1 mm thickness wet..
Spreading – with tooth metal wiper or rubber wiper and roller .
Surface preparation and applying method:
Thorough cleaning from dust, dirt, grease and previous loose paint.
Cleaning with high pressure water >150 atm. for total removing of loose paint.
Fix halls and cracks with acrylic schpachtel and wait for complete dry.
Apply First coat – 1 mm thickness wet layer. After 4-24 hr. apply the second one 1 mm wet layer too.
Dilution:
Firs coat 20% with water
Second coat – 10% with water
Primer:
For new asphalt – aquapoxy epoxy water base primer or aqua flex polyurethane.
For concrete – sand with diamond stones, vacuum, and a primer: Epoxyden floor primer.
Package:
Storage:
Appropriate shaded room with proper ventilation
Keep lids hermetic sealed.
Shelf Life:
Clean Up:
Clean with water and soap after painting completion
Quality control:
In factory laboratories according to specifications.
COA and COC certificate.
ISO 9001-2008
Safety precautions:
Inedible, keep away from the reach of children.
While applying, good air ventilation is important. In case there is not enough air, use ventilation according to the ventilation table.
Wear protective glasses, gloves and suits.
Avoid direct contact of the paint and/or thinner with the eyes and skin. In case of contact, immediately wash thoroughly with water.
In case of an injury immediately get doctors assistance.
Read the safety instructions on the labels.
See M.S.D.S
Warnings:
Don't mix the product with materials which were not recommended by us.
Don't apply if the temperature is under +7°C.
Don't apply if humidity is over 80%
When applying with Airless, do not aim it at anybody a direct hit could be fatal at pressures over 150 atm.
Read thoroughly the technical data of the product listed in this section; confirm that everything is understood completely, for clarification contacts our tech. department.
All information that is listed in this content is a recommendation merely and cannot be applied in the court of law.
The costumer must test & check that this product is compatible with his equipment and needs.
The information listed in this section is according to the laboratory conditions (temperature, humidity etc.) which the products were tested.
The recommendations listed do not hold any responsibility for this product.
Theoretical and actual coverage area are different concepts, the actual coverage is affected by the required thickness of the layers, required number of layers, painting conditions including the amount of paint which spread in the air before touching the surface.
The information listed in this section is based on experience and accumulating data, Denber inc., has the right to change the information listed at any time.
Paints that have been in stagnation or exposed to air more than needed could have their qualities changed.
Clarifications:
Storage room temperature 15°C to 25°C.
Over Spray: An effect which occurs in the spraying of paints application. A type of "dust" is created by dry gases of the air, which causing the paint particles to fall dry on the surface (hereafter the "effect"). The impact of this "effect" becomes stronger due to over pressure and heat, (most sprayers have a lever to control the pressure) To avoid the negative impact 0f the "effect", the pressure of the spraying should be lowered to the necessary minimum!. Another possibility is to increase the amount of the thinner in the mixture which would cause the paint particles to fall wetter on the surface.
An additional recommended possibility, to avoid this "effect", is to add a retarder to the mixture which increases the duration period of the painting application , avoiding the paint to  dry up, and enabling it to reach the surface wetter, Thus a better painted smooth  layer is formed.
Pot Life: The working time which is possible to paint a mixture of two components, A+B (or more) without spoiling the qualities of the paint or disqualifying the paint as "out of use".
Spray: It is possible to spray with a sprayer that has a container holding the paint that sprays it with air pressure.
Airless: a device with a piston which compresses the air for spraying paints. The pressure might be high (over 100atm.) Don't aim it at anyone
Surface preparations: the level of cleanness is determined by international standards. Surface preparations, including cleansing sand blasting, is important & critical factor in achieving an optimal result for painting adhesion on a certain surface. These standards are equally compared to the standards of the Swiss SA, the German-Din the U.S SSPC SP For each standard in any level there are indicators, for sale, in order to make visual comparison between the cleansing of the surface and the indicator.
Quality inspection:
Prior to the painting on large surfaces it is important to test the product on a small area, to be sure that the paint is compatible with the level of satisfactory.
Laboratory testing was made according to the standards institution specifications.
This "Data sheet" given as noncommittal information, the product above recommended for professional painting specialists. This information is not a substitute to personal guidance.
You must read the MSDS safety instructions before you start working with the product