Fire resistance of houses, hardwood and parquet floors, decks
Fire resistance of houses, hardwood and parquet floors, decks
Wood is such a popular raw material from times to the present day, it has been and is still used to build houses, make furniture, floors, vessels and much more …
A wonderful material that is easy to process and assemble, it has one significant and significant drawback, wood is a flammable material.
How to keep wood from fire?
Denber Paints manufactures a wide range of fire retardants, fire retardant paints and varnishes, and flame retardants for wood, fabric, cardboard and steel protection paints.
Wood Surface Preparation: Make sure the wood is clean, dry and lightly polished without dust.
First coat primer: To protect the wood from fire, first impregnate a penetrating transparent liquid material called IFR-30. Even if the wood is protected from the outside, the wood will ignite from the inside and catch fire. IFR-30 prevents this. The product is approved by the Institute of Standards, Standard 755, Level 5, which confirms that the product makes flammable wood completely non-combustible. Can be applied by dipping, brushing, scrolling. Another important advantage is that IFR-30 impregnated wood prevents pests from growing in the wood.
Natural wood is food for pests such as termites, which digest cellulose well, and is their main food source. The presence of IFR-30 in the tree prevents them from digesting the tree and creating a colony on it. IFR-30 should be soaked to saturation so that the wood is no longer absorbed. Excess IFR-30, which has dried and turned to a white powder, should be removed with a damp cloth. Let dry completely before applying top coat / varnish.
Top second layer: The top layer seals the wood and protects it from fire, weather conditions and keeps IFR-30 permanently inside the wood without being exposed to rain.
Here are some top coat options: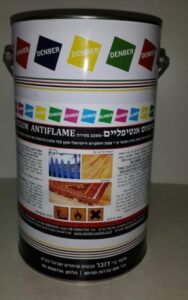 Tutgum Anti-flame is a one-component glossy or matte transparent varnish without a tint or translucent in shades of natural wood (see Bernish's color palette). Tutgum Anti-flame is a high-quality flame retardant and, like Antifali, is anti-flame, prevents fire from growing into flames and prevents ignition. Suitable for painting wooden walls, wooden ceilings, gazebos, garden furniture, parquet and thin floors.
Denbergloss Antiflame is a two-component, abrasion-resistant, transparent or glossy or matte varnish without a tint or translucent in shades of natural wood (see the Bernish color palette), Denbergloss Antiflame is a high-quality flame retardant, Fire. Particularly suitable for painting thin parquet floors due to its abrasion resistance. Also suitable for all wood walls, wood ceilings, gazebos, garden furniture, etc.
From the press: Denber Projects has completed a project to paint the Rimonim Hotel in Neve Ativa with a fireproof coating. As part of the project, about 70 of the hotel's wooden cottages were painted with a Denver-based coating that soaks into the wood and prevents it from burning in the event of a fire. The coating, called IFR30, meets Israeli 775 level 5 fire protection, which is the highest degree of the standard, and lacquered booths have also been observed against the Bernish Antiflame fire, which is also 755 level 5 certified by the standards institute.
Denber Paints is a leading manufacturer of advanced and innovative paints, coatings, sealants and chemicals for the home decorative and professional professional market as well as modern construction. The company's plant, founded in 2002, is currently located in Sderot. The company has a research and development department that deals with original designs and solutions for special needs. Several Denber products are exported and unique products have been selected for polyurethane flooring and waterproofing solutions implemented by Denber Projects in unique works.
For more information and free consultation about fire resistance of houses, hardwood and parquet floors, decks please contact us.
web site: denber