Crystal epoxy resin for tables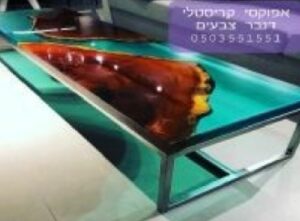 Crystal epoxy resin for tables
Crystal clear transparent epoxy used in the decorative production of tables, jewelry, sculptures, and art objects is a unique material in the epoxy family with the lowest yellowing tendency of all epoxy types in existence. Can be cast in thick layers and gives the appearance of clear glass. Hence the name epoxy-crystalline. Suitable for pouring into open molds or filling voids. Low viscosity and, consequently, convenience and ease of use when casting, lack of foreign odors, gives an aesthetic and decorative appearance to molten and cast glass.
Crystal epoxy resin for tables
Crystal epoxy resin for tables
Crystal epoxy resin for tables
Cures to a highly durable and vulnerable glossy transparent material. It is possible to cast figures and jewelry of great thickness, on very large and very thick table surfaces it is recommended to cast twice in order to prevent excessive thermal effect from curing a large mass of epoxy, which can cause the epoxy to crack. The greater the amount of epoxy in the casting, the shorter the cure time for contact and finish.
Two-component product: basic and solid. Polymerized thermostatic polymer with polyamine hardener, non-volatile and 100% hard. That is, the more volume is poured into the mold, the more solid particles will be obtained without loss of volume. Small bodies up to 10 cm thick can be cast in a single cast. Crystalline epoxy also has the advantage of having excellent air release properties, so there is no need to hold bubbles with hot air or start a fire.
The clarity and beauty of crystalline epoxy, and the fact that it can be used to mold any shape, has made crystalline epoxy the main raw material in the carpentry industry for the production of decorative, transparent, translucent and opaque opaque tables. Crystalline epoxy is also used in the jewelry industry. The platonic table and decorations can be made in various shades and designs, as well as in a combination of wood, stone, shells, beads and original designs combined with pigments, glitters, various powders, various creams, metallic powders, pearl powders, etc.
Denber supplies clear crystalline epoxy in 5kg and 15kg packs, you can place an order online and add any type of pigment and signal beautification to your order number by phone.
Crystalline epoxy is also used to coat paintings, signage and 3D designer floors. Due to its hardness and abrasion resistance, it is suitable for 3D printing on floors.
Artists also use it to cast sculptures, wall clocks, mezuzahs, lamps, counters, and more in a unique and effective design.
To increase the UV resistance, a UV resistant lacquer coat – Denberglocc Clear Lacquer can be added to the crystalline epoxy resin casting.
Work with good ventilation and avoid contact with skin and eyes.
For more information about crystal epoxy resin for tables please contact us.
web site: denber