"Sick" buildings – Antibacterial paints destroys viruses / bacteria – Bacterinoll/ Tutgum Bacterinol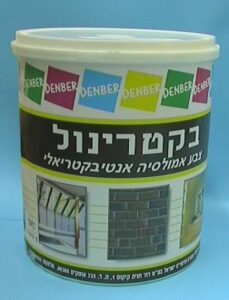 "Sick" buildings – antibacterial dye that destroys viruses / bacteria.
Before we explain how the antibacterial paint Bacterinoll works, it is important to know the damage that sick buildings cause. Sick buildings have become a familiar concept for people who spend many hours within the walls of such a building. Allergic symptoms such as sneezing, runny nose, scabies, discomfort, headaches can be an unusual nuisance that impairs the quality of life of those in the building, as well as their ability to work and concentrate.
Neglecting a problem and constant exposure harms the health of those in the building. Building walls are exposed to outdoor air pollution due to emissions from automobile gases, smoking, wind-blown dust and moisture from the air, which absorbs it into the pores of the paint on the wall. Office towers, which are supplied mainly with air from air conditioning systems, which become polluted over time, exacerbate and exacerbate this phenomenon. Single-celled bacteria that develop in the pores of the walls develop and grow and form mold and mildew, they can even be identified by their smell and color. The smell of mildew, mildew and small black spots, familiar from confined and damp places such as basements, shelters, offices without opening windows and underground buildings where natural ventilation is minimal. Sleeping and working in this type of building can cause respiratory problems and chronic shortness of breath. They impair quality of life and even cause disease. These buildings are defined as "sick buildings". The only and immediate solution to the problem is to paint the walls with catharine (bio) paint and antibacterial paint to kill viruses.
"Sick" buildings – antibacterial paint that destroys viruses / bacteria.
Our antibacterial dyes have been tested by IMSL INDUSTRIAL MICROBIOLOGICAL SERVICES in England. Their main features are: elimination of existing unicellular microorganisms and prevention of new development. Proper care of the walls of "sick" buildings will put an end to "sick" walls. Painting all walls with Bacterinoll will prevent the development of bacteria and microorganisms, prevent the appearance of mold, mildew, mildew and unpleasant odors. Cleans the air and atmosphere. This wall painting will improve the ecological quality of life, mood and work productivity.
Bacterinoll has also been tested for coliform bacteria and swine flu. The result is amazing – 99.94-99.95 percent of them were destroyed. These impressive statistics show good effectiveness against the most dangerous bacteria. (And may also be effective for the corona virus COVID-19, but has not yet been tested.) In other words, the use of air-conditioned ventilation-dependent offices, toilets, showers, kitchens, wet rooms, hospitals, hospital buildings, basements of all types of Bacterinoll is the ultimate solution to the problem. For a clean and healthy environment, it is recommended to use this paint every five years. The paint will clean the walls of bacteria, prevent the development of fungus, mold, bacterial colonies, the air in the room will become cleaner and healthier.
During this period, with viruses and polluted air through which they are transported, it is reasonable to prevent, than then to treat the walls of the house and / or office; any preventive action that improves environmental friendliness can benefit public health. Clean air is one of the foundations of our health. The entire world is mobilizing to reduce air pollution and all the undeniable awareness that polluted air is the root cause of many diseases that affect people, animals and plants. Each of us's contributions to improving the air quality in our immediate surroundings will contribute to an overall improvement in world air quality.
It is not in vain that many states are switching from coal-fired power plants to gas, for global global improvement, and we can take care of ourselves individually!
For more information and free consultation please contact us.
web site: denber