Swelling paints for steel protection against fire – Fire retardant paint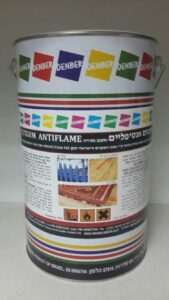 Swelling paints for steel protection against fire – Fire retardant paint
Denber Paints and Coatibgs Israel Ltd. has been approved by SABS laboratory in South Africa as a fire retardant steel product manufacturer after developing fire retardant paint; Proven fire retardant paint.
Certified product fire retardant paint – Denbercryl Antiflame for coating and protecting steel from fire in buildings. The SABS laboratory is one of the leading laboratories in the world licensed to carry out such tests – performed with a load of 60 tons on steel columns – and is an Isotest recognized laboratory.
The purpose of the coating is to protect the steel columns and beams that support the roof and the entire building so that they do not collapse and cause the structure to collapse in the event of a fire. In the event of a fire, the coating swells up to 60 times and physically eliminates the fire from the steel, providing protection for up to two hours, as required by the fire department.
The coating was tested in the SABS laboratories in an experiment in which the beams and columns were coated with Denbercryl Antiflame after a few months the beam was ignited under load. The results of the experiment showed that Denbercryl Antiflame provides fire protection in the event of a fire. Lab approval allows Denber to market the product worldwide.
Denber Paints has recently completed a number of new fire retardant building projects. Completed projects are at Haganah Station in Tel Aviv and Yoseftal Station in Beit Yam, as well as the Solel Boneh building in Kiryat Atidim in Ramat Hahayal. They are the result of similar projects in the Shalom Meir, 8 Atidim and Azrieli Towers in Tel Aviv.
Denber Special Developments and Achievements:
– Winning the tender of the German government for painting German submarines on the basis of a thorough check of the quality of the paint and its suitability for painting submarines.
-Development of inflatable fire paint to protect steel (in case of fire, the paint swells and keeps the fire from steel (so there is no danger of building collapse).
-Unique development of paint for thermal insulation, so that 1 mm of it is equivalent to 5 cm of mineral wool (a material commonly used for thermal insulation).
– Electrically conductive colors with absolute conductivity.
-Development of a floor covering more abrasion resistant than any existing epoxy material.
Denber Paints is a leading manufacturer of advanced and innovative paints, coatings, sealants and chemicals for the home decorative and industrial professional markets, as well as modern construction. The company has a research and development department that deals with original designs and solutions for special needs. Some of Denber's products are exported. The company was founded in 1989 and its first plant was located in Nes Zion.
For more information and free consultation about paints for steel protection against fire – Fire retardant paint please contact us.
web site: denber