Epoxy floor coating and epoxy paints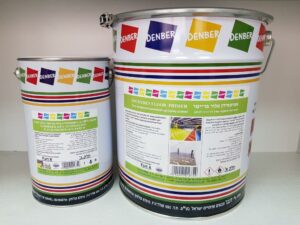 Epoxy floor coating and epoxy paints
Epoxy floor coating based on:
Epoxy resin (polyaphoxide) is a thermostatic polymer that polymerizes with a polyamine hardener in epoxy systems for non-volatile casting and with a polyamide hardener in epoxy systems for painting.
The raw materials Bisphenol A and bisphenol F + epichlorohydrin used to produce epoxy are imported from abroad. In Israel, Denber processes materials and produces a variety of epoxy products, including: industrial epoxy floor coating Epoxyden floor 100% in thick layer for coating floors in industrial halls and car parking areas, abrasion-resistant coat.
Another sort is (Crystal epoxy) A transparent epoxy super clear, Epoxy crystal product of various colors, crystal epoxy for casting tables and various works of art with a unique design (paintings, sculptures, wall clocks, lamps, counters, jewelry, etc.),
Epoxy adhesives, various hard and elastic adhesives (epoxy resin) Electrically conductive adhesives, worn steel recovery adhesives suitable for machining (epoxy mortar), electrical insulating coatings (epoxy 7), fillers and adhesives in the field of construction, aviation and the sea.
Using special key additives and other additional materials, Denber produces epoxy-resistant chemicals (epoxy resin 3) for the application of coatings that are resistant to detergents, temperature, aggressive acids and chemicals (epoxy resin 3309).
Epoxy paints are produced in the form of primary paints (epoxy primer) for various types of metals, car chassis, concrete, epoxy for metals such as aluminum and aircraft aluminum, steel, galvanized iron and much more. Pools, reservoirs, floor coverings and others not exposed to the sun. When exposed to the sun, the epoxy must be protected by Denbergloss Acrylic, eliphtic polyurethane paints,
they are resistant to ultraviolet radiation and protect from the the sun's rays from damage to the epoxy. Special epoxy paints are also produced to protect against fire. Anticorrosion epoxies for rust protection, including epoxies for rust conversion, epoxies for ships and aircraft, epoxies have excellent scratch and chemical resistance and are used for painting various fuel storage tanks, chemicals, food storage bins products, cans and more.
For more information about epoxy floors and epoxy paints, please contact us.
web site: denber