Thermoseal 200 nano thermal isolation paint
acoustic  and  thermal  isolation paint durable from -50oC up to 200oC
Thermal isolation – test no. 991321644 by the Israel institute of standards
Nano Ceramic flexible acrylic coat isolates noise, isolates heal and cold, seals and prevent condensation and mold. Isolating home/warehouses/industrial buildings walls/roofs, industrial pipes and furnaces, refrigeration and cooling facility ties. Durable in temp. -50oc and till +200°C
Thermoseal 200 nano thermal isolation paint
Professional white thin layer isolation material instead of thick rock wool that accumulate ate condensation humidity (that makes rust and rotten pipes), can be implementing by brush/spatula.
*Painting, sealing, isolating, all in one product
Characters:
Thermal isolation creates constant energy economy
Creates fine silent atmosphere in the rooms, enable stable climate control for better sleeping with no noises or temp. changes.
Thin layer 1 mm equal to 5 cm . cotton wool/glass wool/rock wool.
Can be sprayed for coating large spaces.
Prevents condensation and mold.
White color with excellent resistance to outdoor conditions, UV resistance, heat repellent.
Reasonable mechanica1 strength. Excellent sealing characters.
Breathing, allow vapor transition.
Washable, easy to apply, fast drying, light weight, fire durable.
Decrease sun temp. in metal roofs for min. 40% and decrease rain drops noise.
Applications:
Heat exchangers and hot/cold pipes and taps, air conditioned channels in malls and etc.
Tankers exterior walls and ceiling to reduce temp. and prevent evaporation and fire.
Internal and external walls/roofs heal insulation and rain sealing and noise reduction.
Isolating children rooms exterior walls from noise, heat and humidity.
Musical/concerts/movie halls,
Sleeping rooms in ships, trains.
Motors housing,
Hot pipes, tapes, stoves and chimney.
Prevent escape of heat from stoves, pipes, kettles, reactors etc.
Prevent escape of cold from refrigerator, pipes, etc.
Suitable for tile roofs, bitumen, concrete, metal or any other sort,
Technical data:
Theoretical surface coverage- l liter/0.66-1.0 m2
Sun light reflection – 75%
Solids – 80%
Elongation – 30-65% (ASTM D-638)
Max thickness; of one layer – 500 microns.
Recommended layers number- 2-3 for home walls, for industrial use see table below.
Flexibility- 1 mm (SHEEN).
Viscosity- 7- 11 Pa.Sec   (HAAKE).
Density- 1.05-l.1 gr/cm3.
Toughness- > 3 Dg (Erichsen).
Abrasion- 1200 cycle (Gardener ASTM).
Scrubbing – 350 cycles
Salt spray – 3000 hr. (ASTM B- 117)
Thermoseal 200 nano thermal isolation paint
Recommended thickness layer for reducing pump temp. to 65 °c
Liquid temp. in pipe
110°C
135°C
175°C
2150C
235°C
2500C
260°C
Temp. on coat
65°C
65°C
65°C
65°C
65°C
65°C
65°C
Thickness needed
1.5

mm

1.9 mm
2.2 mm
2.6 mm
3.0 mm
3.4 mm
3.8

mm
Thermoseal 200 nano thermal isolation paint
Thermoseal 200 coat of 3 mm on 10 cm gypsum isolated board provides acoustic isolation of Delta Lw=38db (ISO 140 chapter 8)
Swallowing parameters NRC
| | | |
| --- | --- | --- |
| Thermoseal 200 dry film 1.0 mm | Thermoseal 200 dry film 2.0 mm | Thermoseal 200 dry film 3.0 mm |
|  0.45 | 0.55 | 0.60 |
Blocking in db according the frequency for 3 mm coat on gypsum board
| | | | | | | | | |
| --- | --- | --- | --- | --- | --- | --- | --- | --- |
| Hz frequency | 65 | 125 | 250 | 500 | 1000 | 2000 | 4000 | 8000 |
| blocking in  db STC-db | 16 | 18 | 22 | 27 | 30 | 33 | 38 | 42 |
Thermoseal 200 nano thermal isolation paint
Thermal conductivity 20cm concrete + 1 mm thermoseal 200: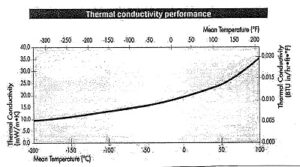 -40OC – 0.015 W/m.k
-20OC – 0.018 W/m.k
0OC – 0.020 W/m.k
+10O –

0.021 W/m.k

+30OC – 0.023 W/m.k
+500OC – 0.025 W/m.k
 Content:
Special acrylic polyurethane emulsion.
Flexibility improvers.
Pigments, dryers, ceramic fillers, wetting materials.
Fungicides, additives, UV resistance improvers.
Thixotropic agents and others.
Tints: white
Gloss: matte
Touch-Dry:
< 3 hours, depending on thickness and temp.
Thin layers dry faster.
Dry time between layers:
Painted Surface temp.
5- 1 2°C
13-20°C
21-30°C
% humidity
10-30
31-50
51 -70
>70
10-30
31 -50
51-70
>70
10-30
31 -50
51 -70
>71
Dry time between coats
8-12

hr.

10-16

hr.

12-20

hr.

20-24

hr.

4-6

hr.

5-8

hr.

6-10

hr.

10-12

hr.

1-2

hr.

2-3

hr.

2.5-3.5

hr.

3.5-4

hr.
Painted Surface temp.
31 -400C
41-50oC
51-60°C
% humidity
10-30
31 -50
51 -70
>70
10-30
31 -51
151 -70
>70
10-30
31 -50

51 -70
>71
Dry time between coats
1-1.3

hr.

1.2-1.5

hr.

1.5-1.8

hr.

1.8-3

hr.

0.5-0.7

hr.

0.7-1

hr.

0.8-1.2

hr.

1 .2-2

hr.

0.3-0.5

hr.

0.4-0.8

hr.

0.5-l

hr.

1 -1.5

hr.
Final drying time:
<24 hr. in summer
<3 days in winter
Implementing method:
Dilution:
20 – 30% with water for first layer.
5 – 20% with water for second layer.
Can apply with no dilution by spatula.
Surface preparation:
Must be clean from dust, dirt, unstable paint.
External walls – water high pressure cleaning > 150 bar. fill holes with "Denberspachtel"
Metal pipes/walls/roofs- clean the metal to "white metal" level by sand blasting or chemical cleaning with " Degreezer 3000″ and flush with water.
Paint on suitable primer
Primer Paint:
Walls – painted or plastered and roofs concrete or tiles – Denbertex primer.
Wooden walls/roofs – Denbertex primer.
Plaster, concrete, asbestos- Denbertex Primer.
Galvanized- Tutgum Galvanize.
Hot pipes <120°C – Epoxyden primer
Hot pi pes > 120°C – Zink silicate (till 600°C)
Packing:
Storage:
Store in well shaded place, room temp. with appropriate ventilation.
Keep lids tightly closed.
Shelf Life:
12 months in original package
Tools Cleaning:
At the end of the application with D-18 Thinner or Mineral Turpentine.
Quality control:
In factory laboratories according to specifications.
COA and COC certificate.
ISO 9001-2015
Safety precautions:
Inedible, keep away from the reach of children.
Wear protective glasses, gloves and suits.
Avoid direct contact of the paint with the eyes and skin. In case of contact, immediately wash thoroughly with water.
In case of an injury immediately get doctors assistance.
Read the safety instructions on the labels.
See M.S.D.S
Warnings:
Don't mix the product with materials which were not recommended by us.
Don't apply if the temperature is under +7°C .
Don't apply if humidity is over 80%
When applying with Airless, do not aim it at anybody a direct hit could be fatal at pressures over 150 atm.
Read thoroughly the technical data of the product listed in this section; confirm that everything is understood completely, for clarification contacts our tech. department.
All information that is listed in this content is a recommendation merely and cannot be applied in the court of law.
The costumer must test & check that this product is compatible with his equipment and needs.
The information listed in this section is according to the laboratory conditions (temperature, humidity etc.) which the products were tested.
The recommendations listed do not hold any responsibility for this product.
Theoretical and actual coverage area are different concepts, the actual coverage is affected by the required thickness of the layers, required number of layers, painting conditions including the amount of paint which spread in the air before touching the surface.
The information listed in this section is based on experience and accumulating data, Denber inc., has the right to change the information listed at any time.
Paints that have been in stagnation or exposed to air more than needed could have their qualities changed.
Clarifications:
Storage room temperature 15°C to 25°C .
Over Spray: An effect which occurs in the spraying of paints application. A type of "dust" is created by dry gases of the air, which causing the paint particles to fall dry on the surface (hereafter the "effect"). The impact of this "effect" becomes stronger due to over pressure and heat, (most sprayers have a lever to control the pressure) To avoid the negative impact 0f the "effect", the pressure of the spraying should be lowered to the necessary minimum!. Another possibility is to increase the amount of the thinner in the mixture which would cause the paint particles to fall wetter on the surface.
An additional recommended possibility, to avoid this "effect", is to add a retarder to the mixture which increases the duration period of the painting application , avoiding the paint to dry up, and enabling it to reach the surface wetter, Thus a better painted smooth  layer is formed.
Pot Life: The working time which is possible to paint a mixture of two components, A+B (or more) without spoiling the qualities of the paint or disqualifying the paint as "out of use".
Spray: It is possible to spray with a sprayer that has a container holding the paint that sprays it with air pressure.
Airless: a device with a piston which compresses the air for spraying paints. The pressure might be high (over 100atm.) Don't aim it at anyone
Surface preparations: the level of cleanness is determined by international standards. Surface preparations, including cleansing sand blasting, is important & critical factor in achieving an optimal results for painting adhesion on a certain surface. These standards are equally compared to the standards of the Swiss SA, the German-Din the U.S SSPC SP. For each standard in any level there are indicators, for sale, in order to make visual comparison between the cleansing of the surface and the indicator.
Quality inspection:
Prior to the painting on large surfaces it is important to test the product on a small area, to be sure that the paint is compatible with the level of satisfactory.
Laboratory testing was made according to the standards institution specifications.
This "Data sheet" given as noncommittal information, the product above recommended for professional painting specialists. This information is not a substitute to personal guidance.
You must read the MSDS safety instructions before you start working with the product.
 C.O.C – Certificate Of Analysis
we certify that product : Thermoseal 200
Produced according: DEF 1110   Cat. No. 017174
Batch No.  011405   Packing unit:  18 lit.
Meets our specifications for this product with the following actual data:
Covering ability (m2\kg)
11.1
> 10
Viscosity (Pa-s) sec/Pols (Haake)
10
7-11
Binder grinding fineness (Micron) /Heg
20
< 25
Elasticity (mm) bending (Sheen)
1
< 3
Elongation
50
30-65%
Hardness kg (N x 10)
10
> 5
Touch dry time (hours) 250 mic.
40 min.
< 1 hr.
Final dry time (hours)

(first coat for recoating)

O.K.

O.K.

Spraying:< 1 hr.

Brushing:< 4 hr.

Density (kg/Iit)
1.05
1.0-1.1
Gloss % 60°
4
< 6
Pull off test
275
>200psi
Color (After 24 hour drying)
Off white
Fed. St. 955-no.37875/0ff  white
Flash point
none
> 25 °C
Scratch resistance after 7 days (750 gr.)
O.K
The metal shall not be seen through the scratch
Package, label, marking
O.K
Acc. 3-21/lsrael standard 2302
Storage stability – 10 days, 40 °c
O.K
No sagging or separation
Flexibility and adhesion after 13 days
O.K.
Shall not show cracking or loss of adhesion
Crisscross 1 mm adhesion test Israel std. 785 chapter 14
O.K.
No loss of adhesion permitted
Thermal conductivity                    -40OC

(watt/meter kelvin)                        -20OC

0OC

+10OC

+30OC

+40OC

0.015 W/m.k

0.018 W/m.k

0.020 W/m.k

0.021 W/m.k

0.023 W/m.k

0.025 W/m.k

 20 cm concrete +1 mm Thermoseal   200

ASTM C-177   RVE TEST

Humidity + UV Cabinet 3000 hr. In cycles

O.K. no visual change
8 hr. lamp 60° 4 hr. humidity in 50 °c
Accelerated wearing out humidity cabinet 40 °c
O.K.
14 days
% solids
80
lsrael std. 785 chapter 17
Visual stability 24 hour after applying
O.K
Smooth, free of sagging and wrinkling
Time of drying-up (hours). The two coats
4
< 4
Stability – 168 hours 50 °c
O.K.
Viscosity growth allowed

< 2 Pa-sec.

Resistance to distilled water-48 hr. dipping
O.K.
Shall not be softening
Resistance to mineral oil 50 °c for two hr. (after 4 day drying)
O.K.
No deterioration
Resistance to white spirit 40 °c for 1 hr.
O.K.
No softening
Salt spray 5% – 3000 hr. – 125 days (two coats) 33-36 °c (ASTM B-117)
O.K.
Slight sings of breakdown allowed