The work on the floor covering and restoration of the sports hall has been completed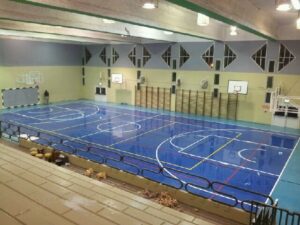 Denber Projects is unique in that it uses a polyurethane material manufactured by Denver Paints and Coatings Israel Ltd., a blue-white material suitable for Israeli climates. The floor covering of the gym provides a uniform, monolithic layer, is easy to clean, prevents slipping and prevents injury in the event of a fall.
Denver Projects has completed the cladding and restoration project for floor covering of the sports hall / gym for the Kfar Haroe High School gymnasium.
Denver Projects CEO Baruch Kogan: "The floor in Haroe Village is covered with debris and potholes. This requires a floor polishing machine. Initially, Denver Projects used a planetary diamond polishing machine with a vacuum, with which it swept over each surface to polish, smooth and level the concrete. Later, after thorough cleaning, an epoxy grout was applied, which finally leveled the entire surface, and the surfaces were examined with a laser. At this stage, the polish was cleaned again and prepared for the polyurethane floor covering.
The field is covered in two shades: the central part is a flexible polyurethane filling called Polyflex Sport 225 A. It is a soft elastic polyurethane covering for sports fields, designed to prevent serious damage in the event of a fall, it expands and contracts with temperature changes and does not crack.
Floor covering sports hall / gym: the central part is dark blue, and around it is turquoise. These two levels have merged with each other to absolute zero height. At the end of the drying process, the marking process was carried out.
The main court was designated as a standard basketball court according to FIFA standard sizes, and three volleyball courts were also designated.
At the end of the markings, the entire field is covered with a special matt varnish, a polyurethane matt anti-slip Denbergloss coating for UV protection and to preserve the markings colors. In addition, on the floor of the hall, we have applied the logo of the village of Haroe, which is located under the same transparent coating.
From the words of the service manager at Haroe Village:
"I was looking for a material that would give me alignment, height and aesthetic finish, and now the site looks like a pool. The durability is high, the deck is soft, you can fix a spot here and a spot there, not PVC parquet, which requires replacing entire sections. "
For more information and free consultation about removing mold please contact us.
web site: denber